Human Factors Training ONLINE
Multimedia e-learning for development, manufacturing and
Maintenance according to EASA Part 145.
++ From now on TrainingsImpulse offers a HF E-Learning for medicine! Here to the website. ++
Contemporary
Human Factors E-Learning
Human factors training courses are mandatory in the aviation industry. They are designed to make employees aware of the human factor. The focus is on the limits of human performance and the dangers of human error.
Our high quality Web Based Human Factors Training is targeted at aviation development, manufacturing, maintenance and CAMO operations. The video-animated online training takes into account all requirements of GM1 145.A.30(e) and is therefore suitable for EASA Part 21, Part 145 and Part CAMO.
Our human factors e-learning is also suitable for companies outside the aviation industry.
With our web-based training, you create flexibility through free time allocation and reduced working time requirements compared to classroom training due to compressed content transfer. You can also define the content yourself from our chapter pool.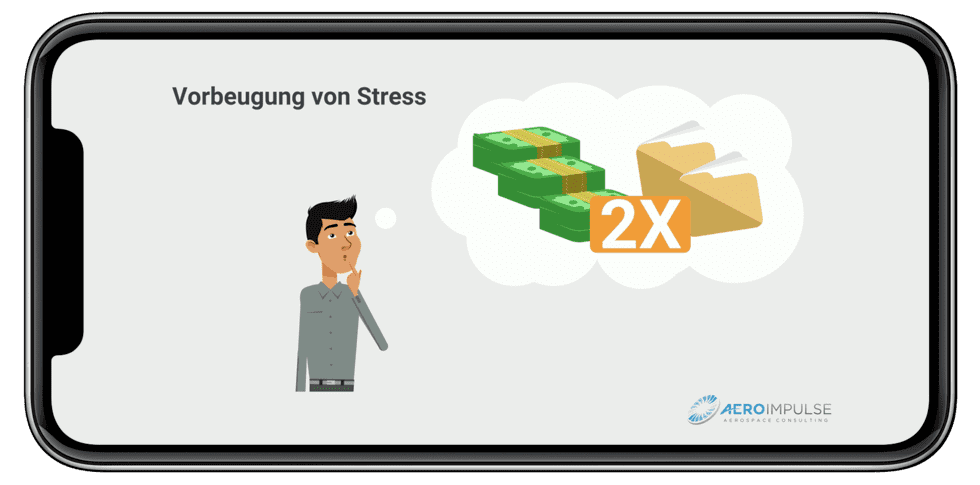 Core data
Duration approx. 210 min (Initial 17 chapters), approx. 90 min (Refresher)
Easy to play, video-animated e-learning with professional dubbing
Automatic certificate dispatch after successful test
Price: 295 EUR (Initial), 179 EUR (Refresher), each plus VAT
Also available in English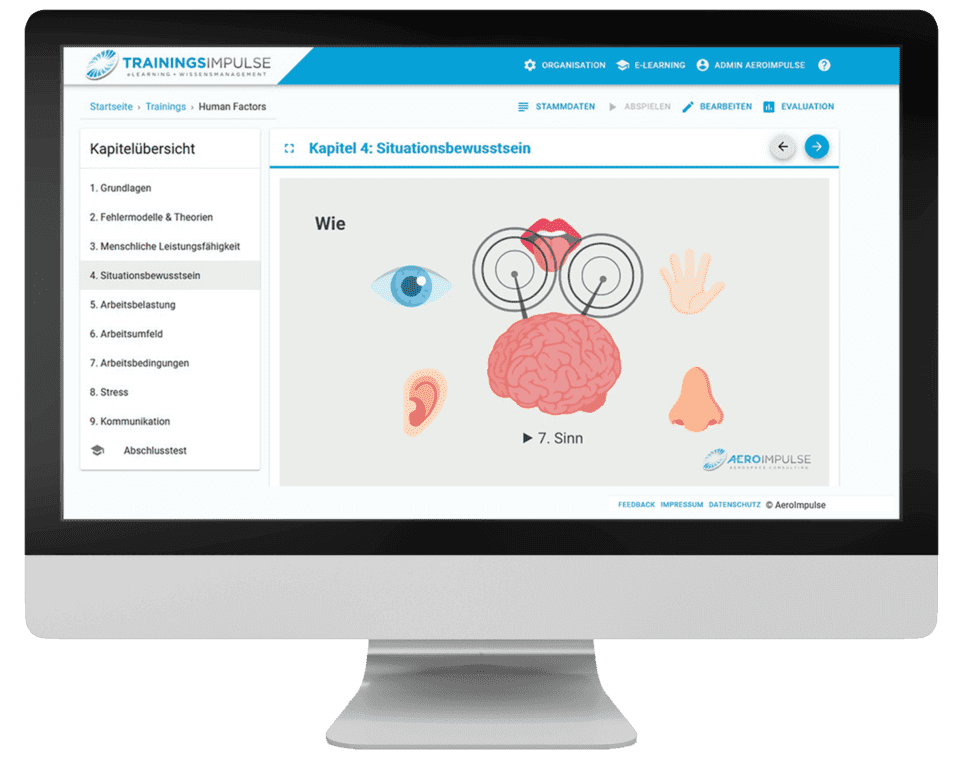 Target group
Employees of the aerospace supply industry
Also suitable for employees of other industries
Specialists and managers from administration and production
For new employees and as continuation training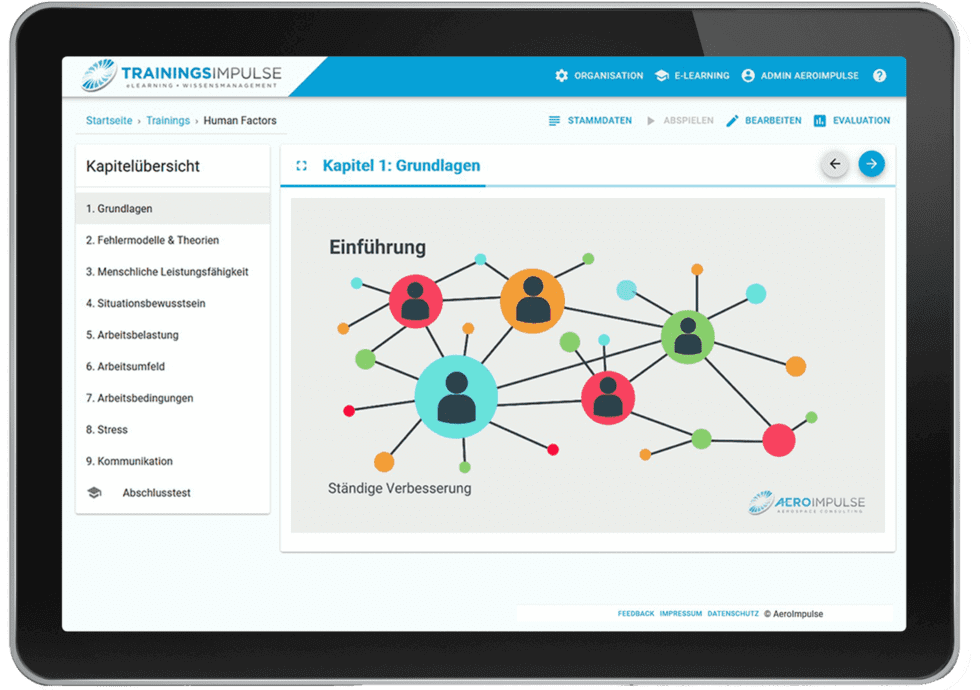 Structure
Contents take into account all aviation regulations of EASA Part 145 – GM1 145.A.30(e)
Suitable as initial or refresher training due to modular structure
Multiple choice final test with 24 questions from a large question pool
Saves working time compared to 1-day classroom training
Particularly effective in combination with our face-to-face trainings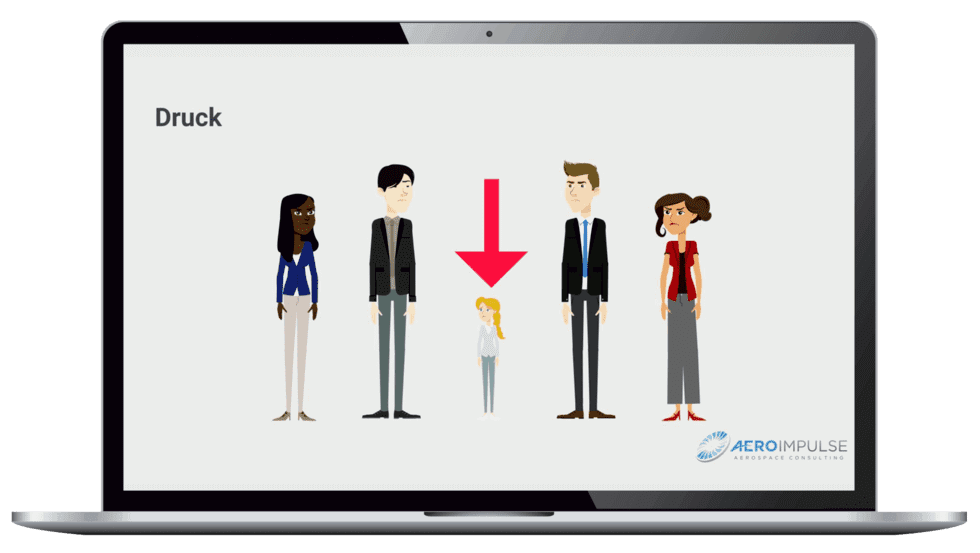 Targets
Teaching the theory as well as practical examples, tips & tricks.
Developing awareness for human errors and own limits
Self-reflection, resulting in fewer errors and lower error costs
Compliance with aviation regulations
Our Human Factors Training ONLINE covers all requirements of aviation law according to EASA Part 145 – GM1 145.A.30(e).
Due to the modular structure, you can also configure your training individually. This approach is particularly suitable for refreshers or for preparing other seminars and trainings.
Basics
Error models and theories
Human performance
Situational awareness
Workload
Work environment
Working conditions
Factors influencing performance
Recognize and avoid dangers
Communication
Teamwork
Leadership
Decision making
Social environment
Conflict Management
Stress
Dealing with mistakes
Enjoyable, understandable and enlightening.
Interesting training. Examples well understood.
Very interesting and helpful training! Made me think several times.
Attractive design that makes it easy to listen and pay attention.
The clips were very easy to understand. I would always do it this way in the future.
A very understandable training program.
Are you interested in our Human Factors Training?
For more information or to obtain a no-obligation volume discount quote, contact:
To the contact form
More trainings from our portfolio
Human Factors Classroom Training?
EASA Part 21J Classroom training?
EN9100: 2018 Classroom training?
Do you already know our books on technical aviation management?